Delivery of a HDD Incoming Inspection Equipment
Case study of introduced products
Delivery of a HDD Incoming Inspection Equipment
Case Study
Client

Communication Equipments Development Manufacturer
Business

SMART TESTER for 6G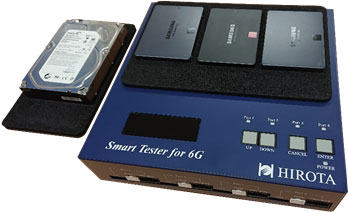 Problem Background
Their communication equipments install HDDs in order to record their communication data such as voices,
They wanted to improve the quality of their communication equipments. Because they have experienced the HDD's failure, they wanted to exclude any defective HDD at delivery
Our Proposal
We provided the customer with the proposal that they were able to eliminate the initial defective HDDs by means of implementing a incoming inspection by our SMART TESTER for 6G.
Customer Voice
The measurement of access time in the whole range of HDD enabled to eliminate the potential defective HDD. They have decided to conduct their own incoming inspection and achieved both their product quality improvement and their cost curtailment.
Product which the customer purchased.