SMART TESTER
for 6G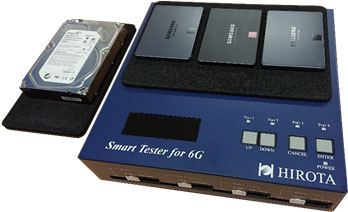 SMART TESTER for 6G is a tester which can evaluate and analyze the SSD's performance and reliability.
<Support Interfaces>
SATA III
SAS II(Option)
PATA(Option)
Application
Selection, Evaluation, Incoming Inspection and Failure Analysis of Storage Media
Product introduction video
SMART TESTER Series
Hardware & Software
Sorry, under construction now.
SMART TESTER Series
Overview
Sorry, under construction now.
SMART TESTER Series
Service business
Sorry, under construction now.
SMART TESTER Series

(HDD/SSD evaluation machine)
Sorry, under construction now.
Features
Capable of flexible conduct of highly technical evaluation with the dedicated scripts
Capable of proposing an evaluation method which enables an enhanced reproducibility when analyzing defective drive
Capable of easy-to-understand display of Drive's performances by a graph
Capable of Drive's power control/measurement(Power shutdown, Varying voltage)
Capable of conducting the global standard tests complying with SNIA SSS/PTS for Drive's function
Capable of combinational proposal with an environment Test chamber
Capable of consultation on drive's evaluation (Please consult us because optional functions are also available.)
Main Functions
Capable of conducting a global standard benchmark test
Global Standard Tests can be conducted easily.
TBW Test (for Enterprise & Client)
Evaluation of write endurance by JEDEC 218,219.

Endurance
Data Retention
Read Disturb

SNIA SSS PTS (for Enterprise & Client)
Evaluate the marginal performance when the steady state is reached.
Vender Unique Access Test
Basic Information Control

SMART Data User Threshold Value Setup/Judgement
Capacity Clipping(HPA, DCO, ACS3 Method)
Format(Secure erase, Sanitize, Trim)
Que Depth Control

Writing Durability Evaluation
Function Evaluation
Degradation Access Evaluation(Swing, Butterfly, Accordion)
Substantial Power Management
Evaluation is conducted under the intentionally hazardous environment such as noise, oscillation, etc.
The behavior of media is monitored by the graphs of measured data.
Power ON / OFF(Transition Time Control)
Power Shut Down Evaluation (Data Retention)
Electric Power Saving (Dev. Sleep, CLK Req) (Small amount of electricity continuation(μA) Function Support)
Displaying drive performances by a graph intelligibly
All test results are automatically logged and can be displayed in GUI mode such as graphs. This is optimal for long time data collection and benchmark test.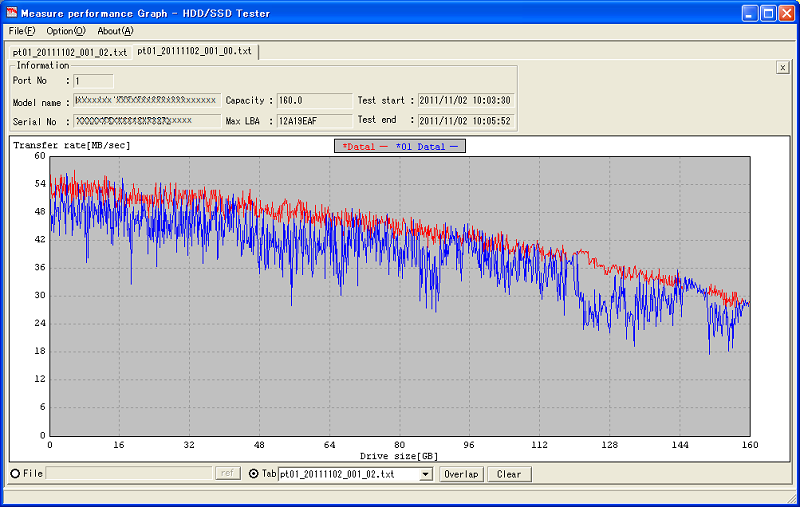 Drive Performance Benchmark Evaluation
It is accessible under the various kinds of conditions to measure the drive performance and IOPS.
This enables to compare a drive's performance.
Seqential Read
Random Read + NCQ
Seqential Write + NCQ
Random Read
Seqential Write
Random Write + NCQ
Seqential Read + NCQ
Random Write
Current/Voltage Measurement and Variable Function
Drive's current and voltage are measurable and the applied voltage is variable optionally.(10mV Step) They can be measured every 125μs sampling interval and the peak hold value can be accurately measured.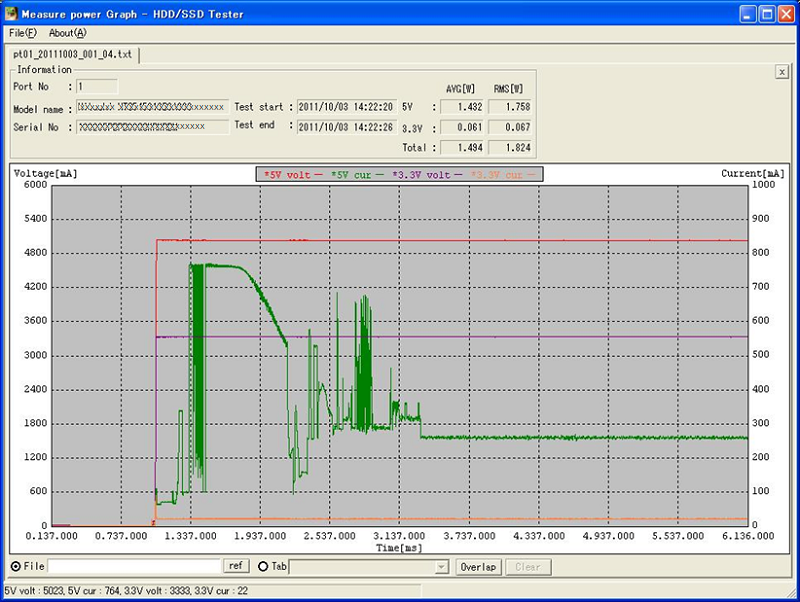 Operability Is Accepted By Various Users
Simple Test Mode Enables Easy-To-Understand Operation
The combinational function of Selectable method among multiple test conditions is originally equipped with.
Anyone can easily operate due to GUI function.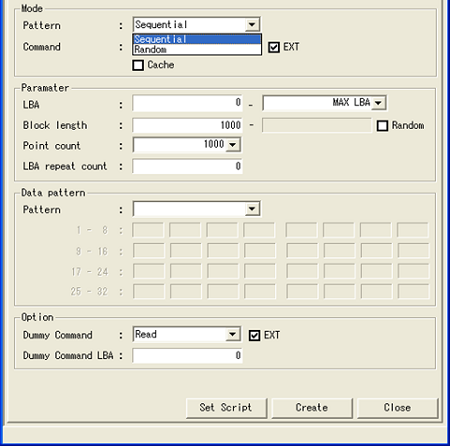 Sufficient Functions Are Accepted By Many Engineers
Combination of scripts enables customers to create their original test.
The tester is originally equipped with the various types of script debug function which creates their own test more smoothly .
Upon customer's request, we are happy to assist your script creation.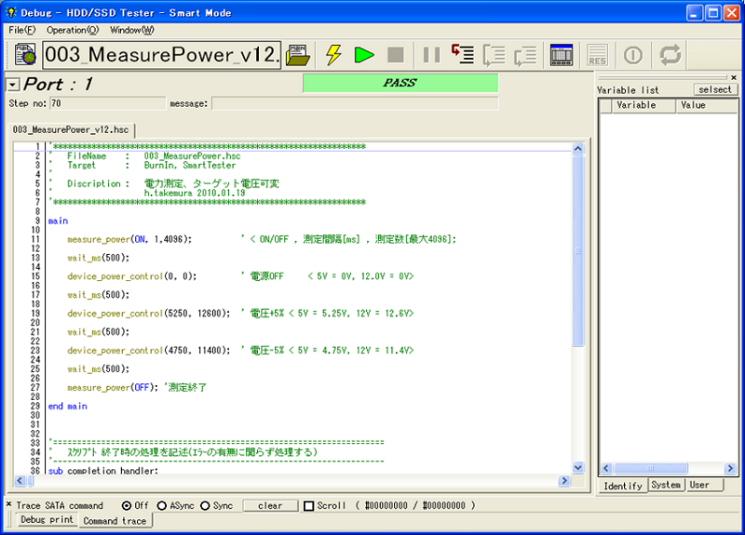 Combination Proposal With Environment Test Chamber
HDD is affected by usage environment a lot and might cause a deterioration or malfunction.
It is important to select an optimal HDD in consideration of usage environment because it varies depending on a manufacturer or a model.
We can propose the various types of test like in which SSD is operated in temperature variation of the environment chamber.
Please feel free to contact us for more details.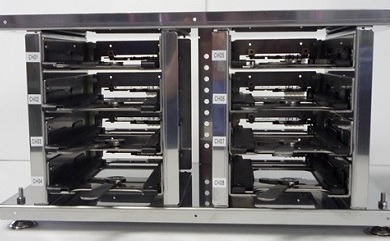 Deployment to small burn-in test equipment for SSD
It can be deployed to a small burn-in test device (SSD compact burn-in test system) for SSD evaluation.
We propose to improve the reliability of SSD by performing evaluation while synchronizing with temperature.
We will provide various custom products, so please feel free to contact us.
(Sorry, under construction now.)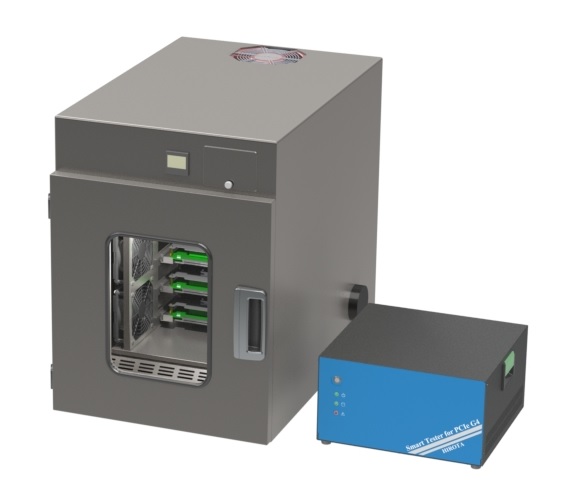 温度制御範囲:常温~85℃
空間温度偏差:±2℃
接続SSD数 :4台
Application to Mass production Type
It is applicable for a large equipment in use of mass production process.
We can provide with enhancement proposal of the drive's reliability by the test in which we evaluate it under synchronized temperature and humidity.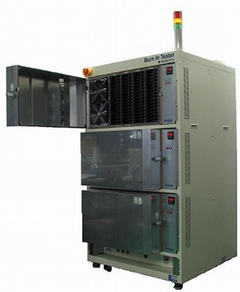 <Burn-in Test Equipment>
Temperature Control Range
At No Load : (Room Temperature+10℃) up to +65℃
Temperature Accuracy At Steady State : within ±3℃
Number of Connectable Drive : 192 ports / equipment(2.5inch)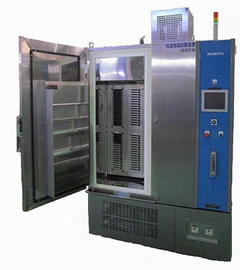 <Constant Temperature and Humidity Testing Equipment>
Temperature Control Range
At No Load : Temperature -35℃ ~ +90℃
      Humidity  5%RH ~ 95%RH
Temperature Accuracy At Steady State : within ±3℃
Number of Connectable Drive : 64 ports / equipment(2.5inch/3.5inch)
Model
Specifications
Model Type
S64PV1-F3
Interface
SATA III, SAS II(Option), PATA(Option)
Evaluation Device
HDD : 3.5inch/2.5inch
SSD : 2.5inch / M.2(2230-22110)
CompactFlash / Cfast / mSATA-F3
Input Power Supply
AC95~245V 50/60Hz
Outer Dimensions
W259*D258*H58mm
Specification may change without notice. A Personal Computer is not included in the system configuration.
Please contact us regarding the control performance and measurement resolution.