Development/Delivery of a CF express Card Evaluation Equipment
Case study of introduced products
Development/Delivery of a CF express Card Evaluation Equipment
Case Study
Client

Camera Manufacturer
Cfexpress Card Development Manufacturer
Business

SMART TESTER for PCIe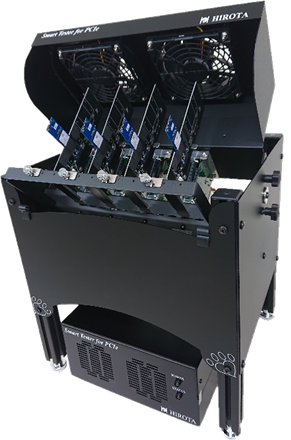 Problem Background
The new standard(VPG4.0) was specified for professional use as a highly functional storage media. However the new evaluation equipment for the new media was not available yet. We were requested to develop it by the industry association "CFA" because they had apprised our performance till now.
Our Proposal
We provided our proposal that our proven SSD evaluation equipment SMART TESTER for PCIe was capable of evaluating the new standard VPG4.0. Then the customer accepted.
Customer Voice
We have had many discussions with the customer "CFA" in order to create the evaluation scripts and we have succeeded in evaluating Cfexpress to see whether or not it can satisfy the new world standard.
This have enabled the evaluation criteria of both manufacturer and its user to be identical and ensured the product quality assurance.
Product which the customer purchased.