Built-in Type of Custom-Made Inverter
Built-in Type of Custom-Made Inverter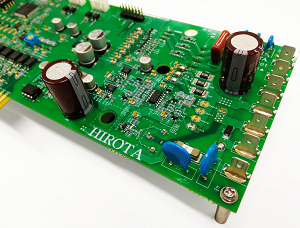 Subject to being built-in the wide variety of customers' products we offer our custom-made inverter dedicated to the customer.
The varieties of customers' requests such as the control of inverter, motor, circuits, frequencies, etc. can be achieved.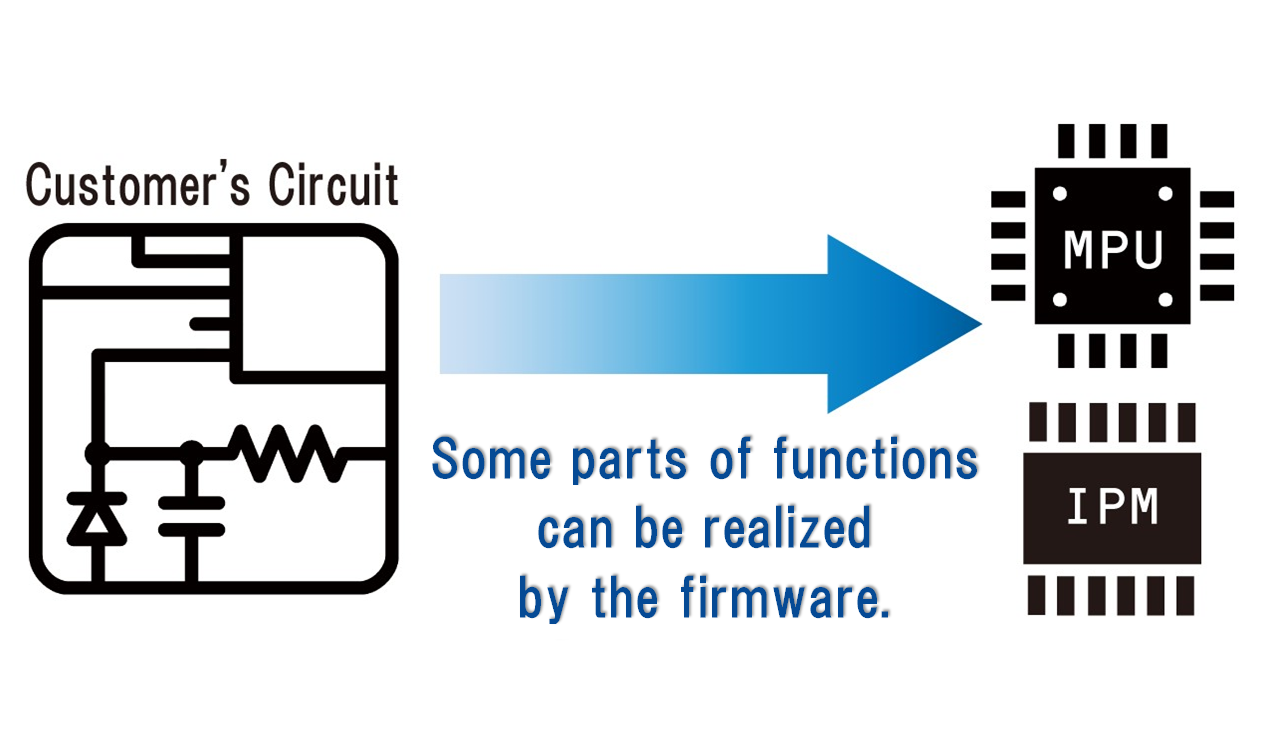 The control functions or the circuit functions of customers' products can be carried out by the firmware in the excess capacity of our inverter MPU.
Problems and Requests
Do you have any concern about the general purpose inverter?
We will deal with the following concern or requests.
Please feel free to ask us.
It has high functions but there are many unused functions and they are hard to use.
We desire the inverter which fits our product's form.
We desire to control the inverter in an easier way by a micro-computer.
We want a lower voltage inverter with smaller capacity.
We want to order an inverter in smaller lot.
Main Custom-Made Items
Issues related to Motor



Power Supply Type(DC Voltage), Electric Current(Max Current), Protection Circuit
Optimal IPM Selection or Wire Logic Structure(Low Voltage, Low Current)
Motor Type(3 Phase Induction Motor, PM Motor)
Rotation Detection Sensor Type(Hall Sensor, Photo interrupter, etc.)
How it operates in case of the power outage or the motor stop

It uses the regenerative electric power to supply the control circuit.
(It controls a safe stop of the motor as much as possible at the power outage.)
It puts on the brakes with the regenerative electric power.
(The excess electric power is released as the heat generated through the resistor.)

From number of start-up rotation to steady state / fluctuation range

Characteristics control to match to the customers' equipments
Items related to the Control(MPU)



Items on Operation Panels Display Devices (LCD/LED/etc.), and items on Operation Switch Devices (Start/Stop/etc.)
Control Interface (we respond to the customer's request.)
Motor Type(3 Phase Induction Motor, PM Motor)

TTL Signal, Contact Signal, Analog Signal. (Directive Number of Rotation, etc.)
With or Without Communication, Example of Communication Type.

* UART Type(TTL / RS232C / RS485 / etc.)
* CAN / I2C
* Ethernet / Wi-Fi / Bluetooth
Items relating to Built-in Mechanism



PCBoard Size, Mounting Method
Cooling Method (Heat Sink, Chassis Heat Dissipation, Forced Air Cooling by Fan)
The control function or any other circuit function of customer's equipment can be realized by the use of excess capacity of the inverter MPU.
Downsizing (A Business card size might be feasible.)
Muffling Sound Design
Safety Circuit (Emergency Stop)
Flow Up To The Productization
Agreement of NDA

NDA:Non-Disclosure Agreement
Confirmation of required specifications

Contents of Achievement/Process/Quantity/etc.
1st Contract / Order

Quotation of Process / Development, and
Ballpark Quotation of Mass Production.
Investigation of Motor Operation

Voltage/Current/Number of Rotation/etc.
Design / Review
Prototype Assembly / Debug

Primary Evaluation and Joint Evaluation.
2nd Contract / Order

Quotation of Mass Production Product.
Production

Manufacturing, Inspection, and Delivery.
Guidance Material
The guidance material regarding "Built-in Type of Custom-Made Inverter" can be downloaded herein.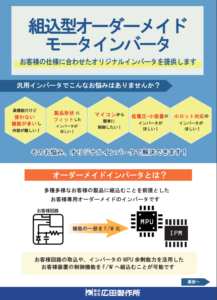 Guidance of "Built-in Type of Custom-Made Inverter" Ver.01
(Only available in Japanese.)
Please feel free to consult us for more details by the following mail form.